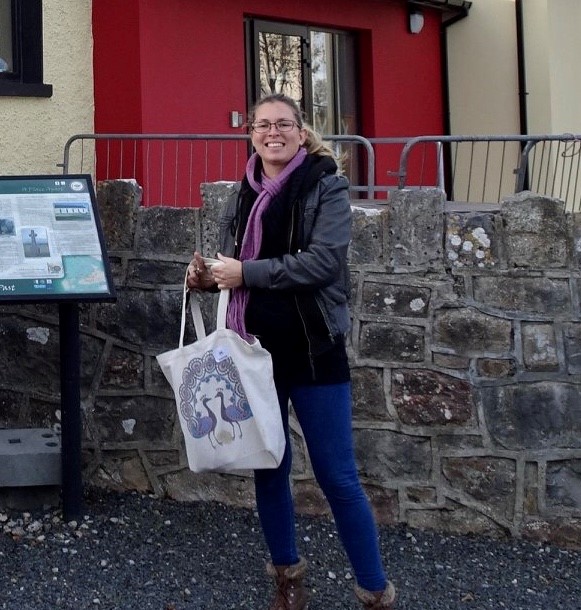 Bonjour!
My name is Audrey, I come from New Caledonia, a french island in the Pacific Ocean, close to Australia.  This shows how widespread the french language and culture are in the world.
I've been living in Ireland for 3 years now. I was a secondary school teacher in New Caledonia but  teaching at the french Alliance is a completely different experience, as you have more time to focus on the learner's progression.
À bientôt!
Audrey
Delphine Dunne
Member of staff of Alliance Francaise de Limerick since 2002. Graduate in English and French as a Foreign Language. Post-grad. Studies at I.U.F.M Auvergne
(teaching college). Living in Ireland since 2001. Currently teaching adult and teenage classes at various levels.
Enseignante a l'Alliance Francaise de Limerick depuis 2002. Licence d'Anglais et de Francais Langue Etrangere. Preparation du Capes a l'I.U.F.M. d'Auvergne.
Installee en Irlande depuis 2001. Professeur de francais pour adultes et adolescents a different niveaux.
Nathalie
M.A. in Teaching French as a Foreign Language, I have been teaching in Alliance Française de Limerick since January 1999. I am in charge of the Senior Cycle and also teach college students and adults. My main interest is the teaching of grammar and the structures of the language. My greatest achievement is bringing an absolute beginner to an H1 in the Leaving Cert in only 9 months!
Diplômée d'une Maîtrise de Français Langue Étrangère, j'enseigne à l'Alliance Française de Limerick depuis janvier 1999. Je suis responsable du Senior Cycle et j'enseigne aussi à des étudiants du supérieur et à des adultes. Je m'intéresse surtout à l'enseignement de la grammaire et des structures de la langue. Ma plus grande réussite a été d'emmener une grande débutante à un H1 au Leaving Cert en seulement 9 mois !
Claire
After a degree in french and classical literature, a master's degree in arts, languages and social sciences at the EHESS (Paris), and a master's degree in Teaching French as a foreign language, Claire arrived in Limerick as a French Assistant in Villiers School and had her first class, "À petits pas" in the Alliance Française in 2018. Her passion for theater, cinema and writing decided her not only to continue teaching in the Alliance this year but also to join our cultural coordinator, Anne Blondelle, for the creation of our new Ciné-club and for other events.
Céline McGrath
Member of staff of the Alliance Française de Limerick since 2017. Doctor in Sciences (Hydrogeology). Teacher at Lilles and Calais Universities. Living in Ireland since 2007. Started teaching French in 2012 to kids and teenagers. Habilitated examiner for french diploma Delf A1/A2/B1/B2.  Enseignante à lAlliance Française de Limerick depuis 2017.
Docteur en Sciences. Enseignante dans les Universités de Lilles et Calais. Installée en Irlande depuis 2007. Professeur de Français pour jeune public à partir de 2012. Examinatrice habilitée pour les examens Delf A1/A2/B1/B2.
Bonjour, Je m'appelle Valérie.
I am a Primary School Teacher with administrative skills. I am therefore the Administrator in Alliance Française de Limerick and I also give classes to the FLAM 1 and 2 groups on Saturday. I was born beside Lyon and studied languages at college. My first trip to Ireland was in 2004. Since then, I am in love with your country! After finishing my Bachelor of Arts in Applied Languages in France, I went back to Limerick for three years and worked as a Customer Care Agent and as an Inside Sales Representative. Then I decided to go to Reunion Island to obtain a Master in Education, Teaching and Training. After my appointment as a teacher, I missed Ireland so much that I went back there and worked as a Claims Associate. My desire to teach took over and I stayed 4 years on the beautiful tropical island, before coming back to you. I hope you will enjoy your experience in Alliance Française de Limerick.
Au plaisir de vous retrouver!
Valérie