'LEGACY' the new documentary by Yann Artthus-Bertrand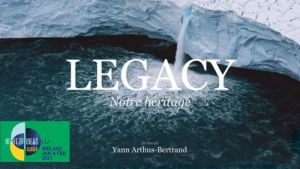 "Legacy, our heritage" is Yann Arthus-Bertrand's new documentary film, looking back on fifty years of the famous photographer's commitment to ecology.
Eleven years after "Home", Yann Arthus-Bertrand returns with "Legacy", a powerful cry from the heart. He shares a sensitive and radical vision of our world, which he has seen deteriorate over the course of a generation, and reveals a suffering planet, a confused humanity unable to take seriously the threat weighing on it and on all living things.
It is an emergency: everyone can and must take strong action for the planet's future for our children.
A must-watch film to realize the beauty of our planet and the need to take action now!
Irish Premiere – Free Screening
4-28 February, 6pm