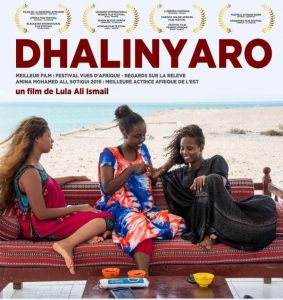 For this year's Online Francophonie Film Screening, we invite you to travel to Djibouti!
Join us for the Irish Premiere of Dhalinyaro (Youth), a 2017 Djiboutian feature directed by the first Djiboutian film director, Lula Ali Ismaïl. This film received critical acclaim and won several awards at international film festivals.
It follows three young women from different socio-economic backgrounds. This is the last year in Secondary School before going to University: Deka and her two best friends have to choose what they will do next year. Should they stay in Djibouti or go abroad to study? Their lives are intertwined and allow us discover the realities of an 18-year-old. A wonderful and sensitive chronicle of girl youth in Africa.
Presented with the generous contributions of the Embassies of the following countries: Argentina, Austria, Belgium, Bulgaria, Canada, Croatia, Cyprus, Czech Republic, Egypt, Estonia, France, Georgia, Greece, Hungary, South Korea, Latvia, Lithuania, Malta, Mexico, Morocco, Poland, Romania, Slovak Republic, Switzerland, Ukraine and United Arab Emirates and Ireland's Department of Foreign Affairs and the Alliance Française Network in Ireland.
19 March, 6pm – available until 23 March
Free Online Screening – Limited tickets available
15A
Bookings